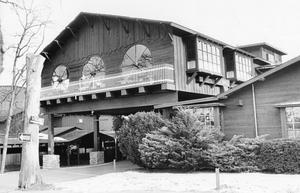 Dave,
I just bought your book on Midwest supper clubs and it brought something to mind.
Did you go to the Wagon Wheel Lodge in Rockton when you were a  kid?
It was an absolutely amazing sprawling place up in Rockton Illinois built entirely in the log cabin style and stuffed full of antiques.  It had every amenity you could ask for and then some.
It was owned by a kind friendly guy named Walt Williamson and managed by a stern but fair lady named Miss Manners.  As a boy, that was all I knew.  There was a lot more to their relationship, but as a kid that didn't register.  All I knew was that I just loved the place.
On a road trip in the early 90s I went back to show the place off to my girlfriend.  It was still interesting, but it was pretty run down.  More than that, something was wrong, something was missing.  I was told that Mr. Williamson had died in 1976 and his competitor at the Pheasant Run Lodge bought the place and was just running it into the ground.
Years later I heard that one day they closed the place, stripped it of anything worthwhile, antiques, photos of famous people, etc., and dumped it.  It changed hands, had mysterious fires (Odd for a place that stood next to the city water tower and had a sprinkler system in every room.) and by 1995 every stick and stone of the place was gone, torn down.  It just did not make any sense to me.
One weekend when I was back in the city I went to the reunion of the old folks that use to work there at the Rockton Historic Society.  The resulting back stories are too numerous to even list.   It's like an epic riotous fun book or movie that was never made.
Williamson was a classic rags (literally) to riches story, some say a sinner (He and Miss Manners were a thing and everybody knew it.), some say a saint (Very big into quiet philanthropy, The Boy Scouts, etc.  One guy told me he paid for the burial of almost everyone in town.), but everybody loved the guy.  He was an operator.  The growth of the place was fast and strange.  Even its demise has that classic wink and a nod, "Yea we know it was burned for the insurance money but who cares?" attitude.
The place had been immensely popular.  314 acres, 280 rooms, 4 furnished apartments, 4 dining rooms, 4 cocktail lounges, 2 indoor swimming pools, a sauna, a bowling alley, a shooting gallery, a pool hall, a dinner theater, a convention hall, a Playhouse, a church, a pioneer log cabin, an ice cream shop, a candy store, a bakery, a gift shop, a his and hers beauty salon, a game room, a ski lift, a full size indoor ice skating arena, an indoor curling rink, indoor tennis courts, riding stables, an 18 hole executive golf course, and a miniature train to pick you up at their private airport.
The old folks told me that the whole place was built of reclaimed materials, mostly an old wooden iron ore pier Williams bought on Lake Superior and all kinds of things he would pick up over time.  All the antiques he and Miss Manners acquired at auctions from failing mansions on the east coast.  The Palace Ice Skating Rink was built out of two aircraft hangers he bought for next to nothing downstate, the ice making machinery from a defunct ice cream plant, and all the seating from the old Palace Theater in Rockford when it was torn down, thus the name,  it was on the back of every seat!  The design of the place was done in his head as he acquired the material.  His crew and lead carpenter built the place without a blueprint.
Additionally I'm told that the place was a Mecca for Jazz and Dixieland music, some recordings were even made there.   Janet Lynn the Olympic skater trained there.  When her folks couldn't afford the lessons Williamson picked up the tab.   Celebrity guests arrived by plane to either entertain, or secretly be entertained and just to enjoy themselves.   The joint even had a talking myna bird in the lobby.
There are so many stories related to this place it is amazing.  Five years ago there was almost nothing about it on the internet.  Now as people are getting older they telling their tales and sharing a lot of pictures of their time there.
So, do you have time to write another book before all these stories are gone?
Let me know,
Bill Van Someren
Shuler's Restaurant, Marshall, Michigan
Dear Dave,
I thoroughly enjoyed you "Supper Club" book.  Having grown up in Detroit, I certainly remember Cliff Bells.  I'm glad to see their web site is back up and running.  I have another question.  One of the enduring Michigan traditions is a stop in Marshall. MI on the road between Detroit and Chicago.  The inviting warmth and charm of Shuler's restaurant there is hard to pass up.  I wondered if it might qualify as a "Supper Club" by your definition.  My observations;
When the dorms closed on Sunday afternoons, students from the nearby colleges (Albion, Olivet, etc.) would flock to Shulers where, with the purchase of a drink (including lemonade), you could purchase a three tier relish tray for 75 cents.  It included the famous Bar Scheeze and HOT meat balls.
Win Shuler (3rd. generation Shuler) was a constant presence in the dining room, greeting regular customers often by name.
The star of the menu was prime rib and there was always fresh catch from the great lakes surrounding Michigan.
Long waits often meant going across the street to the Stage Coach tavern.  A loudspeaker on the front of the building was audible there when your party was called.
It really was a unique Michigan experience!
John Clark
Surprise, AZ
THANK YOU John,
I have been to Surprise during spring training. Great stuff. Can anyone out in SupperClubLand help John?
Dave