Food memories became a recurring theme in researching "The Supper Club Book."
Here are some old school recipes not included in the book and others we have recently gathered.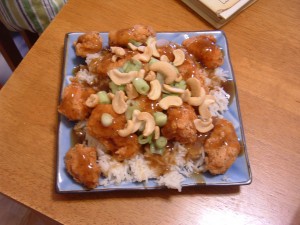 The Grove Supper Club on Old Route 66 in Springfield, Mo. burned down in a suspicious ball of fire in 1979.
It had all the accoutrements of an Upper Midwest supper club: dark lighting, low ceilings and live entertainment. (Chet Atkins, Johnny Cash and the original Drifters performed at The Grove.)
And the house specialty was cashew chicken.
In the early 1960s David Leong was a chef at the Grove.
He created his own style of cashew chicken.
Leong cut the chicken into small nuggets, dipped them in batter and spun them through a deep fry. That
gave the cashew chicken a fried chicken flavor. He then covered the chicken with Chinese oyster sauce, and over that, he sprinkled chives and/or chopped scallions. Salted cashews were applied as the finishing touch.
In 1998 Leong told the Associated Press, "Everywhere I looked, restaurants were serving fried chicken, fried chicken, fried chicken. So I made American fried chicken with Chinese gravy."
Today Springfield is "The Cashew Chicken Capital of America."
In April of this year U.S. Rep. Billy Long presented Leong with a Congressional Record Statement and plaque. In a statement, Long referred to Leong as "a truly unique American hero that has become a local Springfield legend for his creation of cashew chicken."
There are now more than 300 restaurants in the Springfield area serving the dish, according to Long's brief statement on Leong.
In March, 2013 after two years of fine-tuning the sauce, Leong's son began bottling and selling "The Original Cashew Chicken Sauce"  (with chicken broth and less than 2 %  soybeans and wheat)  in Springfield grocery stores.
No matter the cuisine, a supper club stays close to its root source.
The Moracco Mystery Cheese Spread from Dubuque, Ia.
Of course I cannot pick the definitive best meal I had in three summers of researching my book.
But one of the most memorable recipes is the cheese spread made by the late Hazel Hillary, who bought the Moracco Supper Club in 1966 with her husband Bert, an area farmer. Hazel also was a waitress at the now-defunct Leiser's Supper Club north of Dubuque.
Her daughter Jeanne Heiar has kept the recipe alive through handwritten recipe books handed down from her mother.
Many rural supper club owners like to kid around with the snoopy big city cats and back off about sharing recipes. Many times I heard how these were " family secrets."
But I pushed for the book and pushed a little more to include it here:
Small portion;
1 14-oz. container sharp cheddar cheese.
4 oz. cream cheese
8 oz. of sour cream
Blend all ingredients together and whipped with a large mixer–for 45 minutes, or until smooth. Chill and enjoy.
Cookin' with Liberace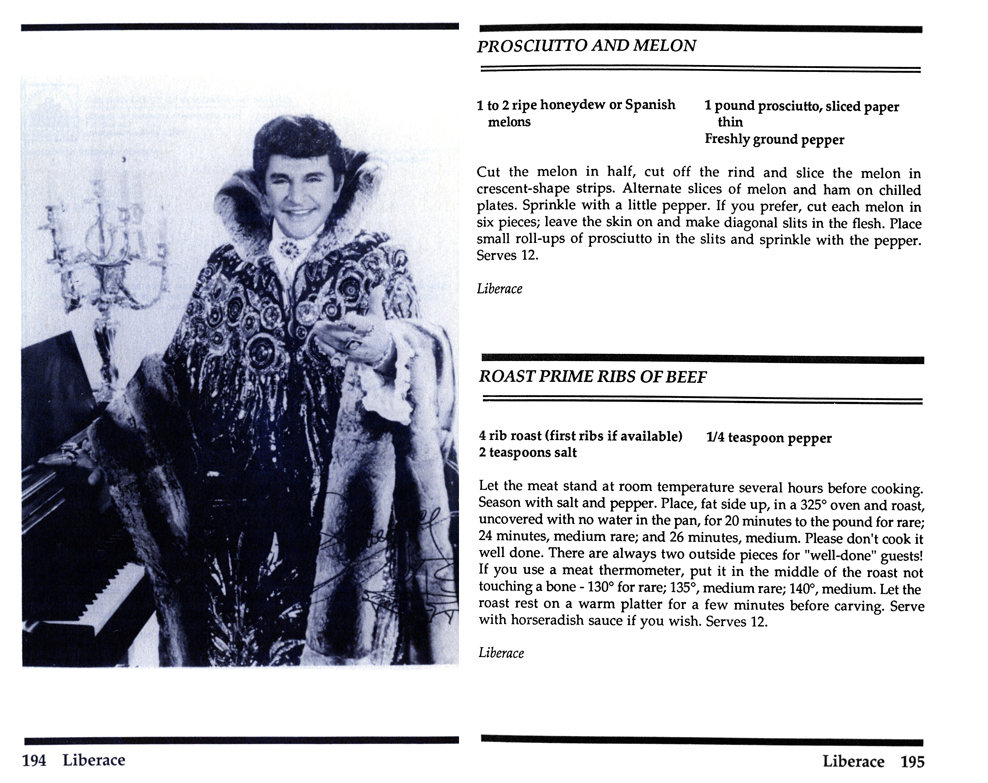 It says here to season with salt and pepper and Liberace was a master of that.
I found this recipe in the 1960s cookbook "Cooking With Wisconsin Celebrities" in a dusty corner of a Milwaukee antique market. Liberace was born in Wisconsin during the dawn of the Wisconsin supper club scene, and surely his lite beer piano style was popular in 1950′s Wisconsin supper clubs.
Liberace got his start in the Cavalier, a small and dimly lit piano bar in La Crosse, Wis. The Cavalier opened in 1934. The building still stands today as the late Libber' enjoys a resurgence on the heels of the award winning HBO biopic  "Behind the Candelabra."
Liberace was born as Wladziu Valentino Liberace in West Allis, Wisconsin. He had been a child prodigy, but as a teenager in the mid-1930s he began playing Milwaukee area supper clubs and hotel lounges as Walter Busterkeys. He performed at the Cavalier for a month, playing on a black baby grand on a small stage that overlooked the lounge. Lil' Walter  worked six nights a week, starting with the cocktail hour at four and played until one in the morning.
He developed his kitshcy stick at the Cavalier. "The audience [at the Cavalier] was a good one, interested and welcoming," Liberace remembered in 1981. "But the applause after the main peformance was only enough to rate one encore. So I decided to give them something to remember. Instead of 'Minute Waltz' or something like that, I played a novelty tune, 'Three Little Fishes' that was very popular and followed with 'Mairzy Doats,' another novelty, dressing them up in arpeggios and flourishes to give the impression I was trying to pass them off as classics, It wasn't much of a joke. But the audience seemed to love it–they relaxed and enjoyed themselves and…they smiled. That was the big thing for me."
Liberace  only returned to the Cavalier one more time, in 1941. But he never forgot his La Crosse launching pad.
He also went on to publish his own cookbook, "Liberace Cooks" (circa 1970) filled with supper clubby recipes of turkey salad and chicken livers with bacon. Liberace was a ham.
Fisher's Club Beebopareebop Rhubarb Pie
Avon, Minn. (Courtesy of Colleen Hollinger Petters)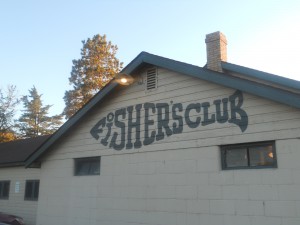 Yield one 10″ pie.
Use 10″ double crust of your choice. The club uses a pie crust recipe with lard as it produces the flakiest crust. (Crust does not have to be pre-baked.)
8 cups chopped rhubarb
2 cups brown sugar
1/2 cup white sugar, 1/2 cup corn starch, 1/2 cup unbleached flour
1 tsp nutmeg
1/2 tsp salt
1 tsp grated lemon zest, 3 tsp butter
Mix all the ingredients together and pour on top of unbaked bottom crust, mounding slightly in the middle. Place top crust on and crimp edges. Brush crust with water and sprinkle with sugar. Cut three or four steam slices in top crust. Bake at 325 for 1 1/2 hours, or until you can see the juices are bubbly. Let stand to cool, then serve.
The Red Stag's Jalapeno-infused Vodka, (Courtesy of the Red Stag Supper Club in Minneapolis, Mn,)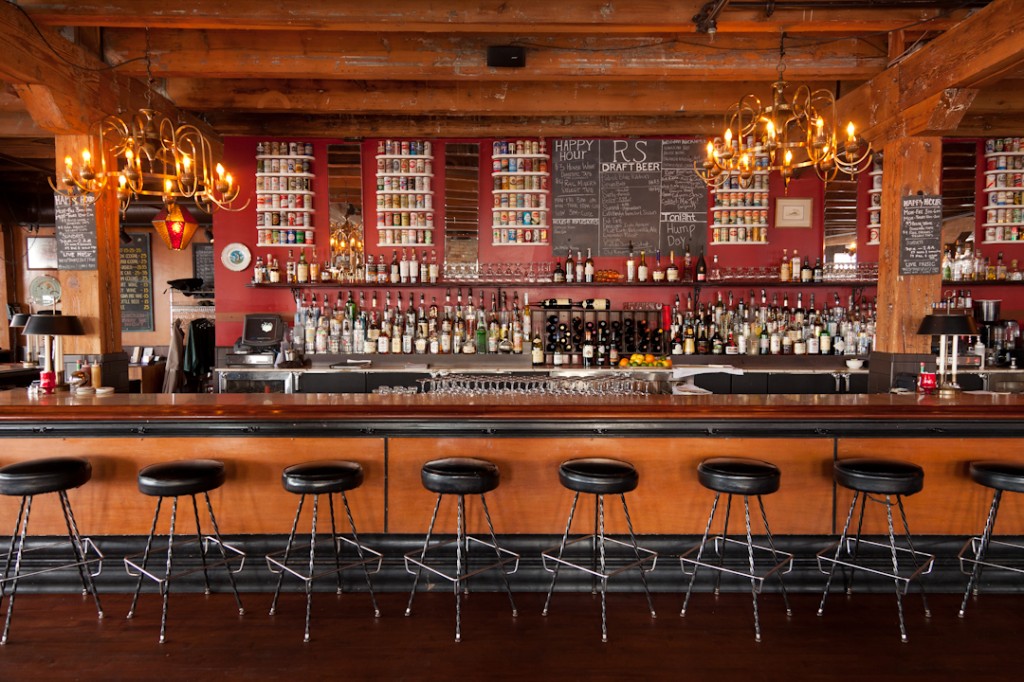 This popular urban supper club drink requires 3 days. (To make, not to drink..that's my joke.)
The Red Stag is known for organic and sustainably farmed local ingredients.
1 L. vodka
3-4 jalapenos, seeded and roughly chopped.
Combine ingredients in jar and seal. Agitate jar 1-2 times per day for 3 days.
Strain.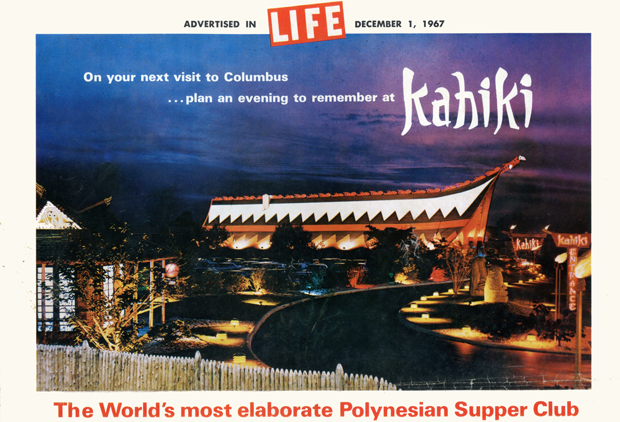 I don't remember the name of my 1964 Cub Scout leader in Columbus, Ohio.
Let's call him Mr. Smith.
He lived across the street from us with his family in a two-story house on North Star Road in Upper Arlington.  We had a Sunday scout outing cancelled because Mr. Smith "got real sick" after spending a Saturday night at the Kahiki Supper Club.
As I grew older, I put two and two together, which I think Mr. Smith did that night with the Kahiki's "Polynesian Spell" drink.
It was brought to your table at the supper club by two scantily clad "mystery girls"  banging a gong.
Here is the "Polynesian Spell" secret recipe:
In a shaker with ice mix:
1 oz, grape juice
1 1/2 oz. dry gin
1/4 oz. triple sec; 1/4 oz. peach brandy
1/2 tsp. sugar
Juice of 1/2 lemon; shake and strain into a champagne glass.
Enjoy!